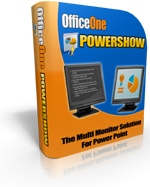 Click on one of the following links to download the trial edition of PowerShow:
Both versions are identical - download the .zip version if you are unable to download .exe files.
Ensure that Microsoft PowerPoint is not running before installing PowerShow. Click
here
to get complete installation instructions.
The trial edition allows you to use PowerShow for 10 days after which you will have to purchase the retail edition to continue using it. For purchasing details, click
here
.
The retail edition does not have these limitations.
Click
here
for a tutorial on setting up a PowerShow session.
Microsoft Windows 11 (32-bit, 64-bit)
Microsoft Windows 10 (32-bit, 64-bit)
Microsoft Windows 8.1 (32-bit, 64-bit)
Microsoft Windows 8 (32-bit, 64-bit)
Microsoft Windows 7 (32-bit, 64-bit)
Microsoft Windows Vista
Microsoft Windows XP
Microsoft PowerPoint 2021 (32-bit, 64-bit)
Microsoft PowerPoint 2019 (32-bit, 64-bit)
Microsoft PowerPoint 2016 (32-bit, 64-bit)
Microsoft PowerPoint 2013 (32-bit, 64-bit)
Microsoft PowerPoint 2010 (32-bit, 64-bit)
Microsoft Office PowerPoint 2007