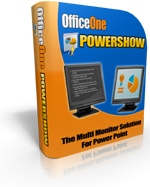 OfficeOne PowerShow registers the license for use on the machine. Any user on the machine can use OfficeOne PowerShow after the license is registered with it. Administrator privileges are required for installing the product as well as registering the license. After a license is successfully registered, even guest users can use OfficeOne PowerShow. No further installation is required.
Licenses for OfficeOne PowerShow can be purchased online by using credit cards, debit cards, wire transfers, bank transfers, check, etc. Use the following links to purchase licenses:
The following licensing options are available for OfficeOne PowerShow:
The following yearly subscription licensing options are available for OfficeOne PowerShow:
Subscription License Pack
Description
Annual Cost (US$)
PayPal
Digital River
Annual License
License for one user on one system. Charged annually, renewed automatically.
49.95
Purchase through Digital River
Product ID: 172673
After purchasing license for PowerShow, you will receive license keys by email. Execute the following utility with the license key to register PowerShow on your machine. Click on one of the following links to download the registration utility:
Both versions are identical - download the .zip version if you are unable to download .exe files.
Note: Please ensure that you have evaluated the trial edition of PowerShow to your satisfaction before making the purchase.
You can place a credit card order over the phone by calling the following numbers:
1 800 406-4966 for US and Canadian customers.
+49 221 31088-30 for customers from all other countries.
These numbers are for Digital River. Before placing the order, please make sure you know the Product ID (see the table above). Please note that these numbers are for placing orders only.
As a corporate client, you can generally order using a purchase order. POs are processed by Digital River. Please follow this checklist if ordering by PO:
One of the following addresses should appear on the PO as the vendor for this purchase:

Customer Service USA
(Language: English)

Share-it - Digital River GmbH
c/o Digital River, Inc.
10380 Bren Road West
Minnetonka, MN 55343, USA
Tel.: +1 952 646-5747 or +1 800 903-4152
Fax: +1 952 646-4552

or


Customer Service Europe
(Languages: German/English/French/Italian/Spanish/Portuguese)

Share-it - Digital River GmbH
c/o Digital River Ireland Ltd.
Unit 153
Shannon Free Zone West
Shannon Co. Clare
Ireland
Phone: +49 221 31088-20
Fax: +49 221 31088-29

You can fax your order or submit it by postal mail to the fax number/address listed above. US and Canadian customers, please use the US address, all other customers can choose either one.
Please use your company's official purchase order form or letterhead to submit the purchase order.
The product name and the specific Product ID (see the table above).
The number of items desired.
The name the product license will be issued to.
Your billing address and your delivery address, if different.
Name, phone and fax number of the contact person for your order.
The e-mail address to which the order confirmation and invoice should be sent, and your e-mail delivery address, if different.
The requested billing currency.
Please be sure that the PO is signed by an authorized purchasing agent for your company.